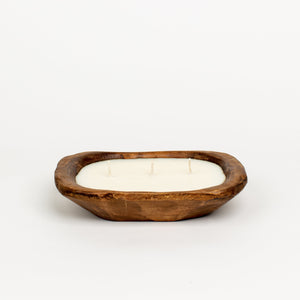 Amazing Fall scents that are unique fragrances that are not normally offered by Olive & Co. 
Easy as 3 steps! 
Step 1: Pick your favorite scent 
Step 3: Place your order 
Step 4: Enjoy your unique candle! 
All Aztec Bowls will be in the natural bowl color. If you want the candle in white or black bowl, state so in the notes section at checkout. 
Details:
- 3 wick
- Natural
- Measure approx. 9 1/2" long, 5 1/2" wide, 2" tall
- Approx. 1 lb (16 oz.)  of 100% Soy Wax 
- Hand Poured 
- Cotton Wick 
- Eco-Friendly 
- Phthalate Free Fragrance Oil
- All our wooden bowls are hand carved. Each bowl is hand made and may contain knots, holes, knife marks, minor cracks, etc. These are a natural part of a bowl that is made from raw wood. Bowls may vary in size, color, and shape. 
Please note:
- All of our products are made to order + handmade. Variations may occur.
- Please allow 1-5 business days for product to be ready.